"As I made this story external to my own life by writing it down and recording it, I could see it without being destroyed by it. The tragedy that birthed this whole thing can exist separately from who I am now." – Bethany
(Read more below)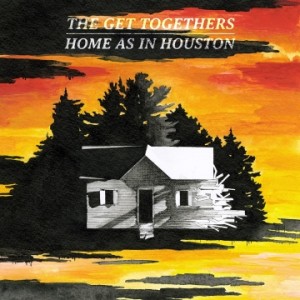 The now external tragedy is the story of an affair with a female teacher while in High School. A story of 2007 captured month by month on The Get Togethers new release, Home As In Houston.
She was 17 and it was a big scandal in her school. After escaping a tumultuous childhood, a 27-year-old person just used her and abused her emotionally, then threw her away.  The police reports, private investigations and courtroom hearings rolled on through the following months, suffocating her hope for survival. She graduated early to avoid additional trauma and moved to Austin, Texas, where she conceived the concept album Home as in Houston to record her story.
Bethany explains: "The concept behind this record was a history of the year 2007. That year was more than tragic and devastating for me. I was no longer a human. When it was over, this woman that I had fallen in love with completely abandoned me. I already had no family and no security, so I felt like this person was completing my existence. I felt like someone finally cared about me. As a 17-year-old, whatever happens to you feels like the most heightened moment of your life, so it destroyed everything. This record is documentation so that I don't have to keep it stored away in myself."
But Home As In Houston is more than documentation, it is a musical reflection of life, covering everything from the haunting chills of Winter to a roll-down-your window Summer playlist. It is, as one reviewer put it, an "album for the seasons, and an ambitiously successful one at that." It is also a collective effort to show there is life after death.
"It went from us trying to help Beth do her thing, to something that we all fell in love with and wanted to be a part of." – Andrew
What started out as unparalleled friendships transformed into the band we now know as The Get Togethers. The result is a collection of lyrical and musical passions from a band that brings "a satisfying grittiness to these songs, distorted guitar that bleeds just outside the box, and thick drum beats that really pound your chest."
Home As In Houston is equal parts memoir and indie rock, just like The Get Togethers.
Explore it Track by Track @infectiousmagazine.com
And pick up your copy today on iTunes and everywhere great music is sold.